47

Butterfield & Robinson Reviews & Ratings

94% Recommend

Excellent

45

Great

1

Average

0

Disappointing

1

Terrible

0

Value:

4.9

Guide:

5.0

Activities:

4.9

Lodging:

4.9

Transportation:

5.0

Meals:

4.9
The trip was a perfect
July 2019
Value

5.0

Guide

5.0

Activities

5.0

Lodging

5.0

Transportation

5.0

Meals

5.0
We just returned from our first family trip with B&R though Normandy. Our guides, Thilo & Sigrid, were incredible. The trip was a perfect balance of cycling, history, food (and wine, of course). The kids loved hiking across the bay to Mont Saint-Michel and the go-karting was a huge hit (as was pizza night)! Really can't say enough great things about this trip. We enjoyed every minute and are looking forward to planning our next adventure!
Read more
Grand adventure
July 2019
Value

5.0

Guide

5.0

Activities

5.0

Lodging

5.0

Transportation

5.0

Meals

5.0
I just completed my 9th biking trip with Butterfield & Robinson! We loved every minute of biking in Tuscany with our guides, Alex, Stephano and Edo. Stunning scenery, challenging biking, a great group of fellow travelers, and, of course, delicious food and wine! Private access to illuminated Medieval manuscripts was a highlight for us because we are college professors and book lovers. Thank you so much for a grand adventure.
Read more
Amazing!
February 2019
Value

5.0

Guide

5.0

Activities

5.0

Lodging

5.0

Transportation

5.0

Meals

5.0
We just completed our first bike trip with Butterfield & Robinson riding in the Piemonte area of Italy. It was amazing! The accommodations, food, wine, bikes, guides and routes were great. Each bike had a tablet on it with the days route so you could go at your own pace and stop and take pictures and really enjoy the beautiful scenery. It was a very challenging ride but after the first day I switched from a hybrid to an E bike which absolutely made my trip more enjoyable. B&R is very accommodating to all of your needs and provided the best trip I have ever been on. My husband and I look forward to planning our next trip!
Read more
Wonderful
November 2018
Value

5.0

Guide

5.0

Activities

5.0

Lodging

5.0

Transportation

5.0

Meals

5.0
Butterfield and Robinson just planned and executed a great, great trip for us to the Amalfi coast. All the services and hotels were wonderful and the guides were great fun and and well informed. Many nice surprises along the way and an itinerary we would have had trouble putting together on our own was effortless.
All guides were well trained the transportation and drivers were polite and on time. The recommended hotels were amazing. We loved every minute of our vacation.
Read more
Beautiful
July 2018
Value

5.0

Guide

5.0

Activities

5.0

Lodging

5.0

Transportation

5.0

Meals

5.0
We highly recommend the bike, boat, hike, trip on the Dalmatian coast. The Butterfield guide was exceptional (thanks Dama!), weather was perfect, coast and countryside were beautiful and every detail was attended to with friendly professionalism. A very memorable trip!
Read more
An amazing trip
July 2018
Value

5.0

Guide

5.0

Activities

5.0

Lodging

5.0

Transportation

5.0

Meals

5.0
Just got back from an amazing trip with B&R from Vienna to Prague. This was my first trip with B&R and I was so impressed by every detail!!! Our guide was so thoughtful and made sure every moment was perfect!! We really enjoyed getting to know him and felt completely spoiled by all the great treatment. The accommodations were fabulous, food and wine was delicious and plentiful, and the bike rides were all so much fun with new adventures and beautiful scenery around every turn! Even the walking tours in each place were top notch with very interesting and knowledgeable tour guides that we enjoyed getting to know. I cannot even believe how incredible this trip was, I highly recommend B&R and am already planning my next trip!!!
Read more
Stride Review
Born in 1966, Butterfield and Robinson specializes in higher end guided and self-guided biking and walking tours to many of the world's top destinations.
What Makes Butterfield & Robinson Stand Out?
The seamless combination of luxury minded travel and the active travel style of cycling are what have consistently made Butterfield a household name among affluent 50+ travelers.
You can choose your own activity level, whether it's a ramble through the Burgundy countryside in France or a more strenuous hike along the Inca Trail in Peru. On cycling trips, bikes are customized to fit the riders, and they have a high staff and support vehicle ratio per guest -- making them a top choice for travelers seeking a high-service biking adventure.
They offer several tours around the world, small group is their primary offering, though private guided and customizable itineraries are also available.
Who Will Enjoy Traveling with Butterfield & Robinson?
They offer trips for all ages, but are definitely most popular among older active travelers with a taste for the finer things.
If a leisurely 25 mile bike ride through European vineyards, stopping for picnics, going at your own pace, and meeting up with your small group for a nice rustic dinner with a well deserved beer or glass of wine at the end of the day sounds like your perfect vacation, then Butterfield & Robinson is for you.
Activity levels vary with the terrain and there are several different activity categories that B&R offers for you to choose from. They're open to people of all ages -- kids under 18 are eligible to go on special family trips -- and athletic abilities.
Ebikes make it easier for even the most basic physical fitness level to travel farther and in more comfort. Of course it's not a complete ride with no effort - you must pedal, but it is possible to travel on a cycling trip with Butterfield & Robinson without feeling like you've entered the Tour de France.
Trips with Butterfield & Robinson are not budget by any means, though a range of price options are available in the mid to upper budget category.
Top Destinations
Over the years, they've expanded to more than 100 biking and walking trips around the world, including Bhutan, the Baltics, Jordan and Colombia as well as favorites like Spain, France, and Italy. Wherever you are, you can expect to be showered with refreshments, route maps, and suggestions for interesting places to stop and explore.
Butterfield & Robinson Travel Style
Most tours with Butterfield & Robinson are easy to moderately paced. Cycling is the primary means of transportation from point a to point b on most trips, with a generous helping of stops to enjoy unique cultural experiences or explore a historical site.
Guided bike trips average about 25-30 miles a day (longer for expert level), while walkers average six to ten miles a day. Group sizes are kept small, to allow for travel along all kind of roads, and create the opportunity for a lot of space between riders, allowing you to find your own pace. On most trips you'll be joined by more than one guide, allowing for very personalized and dedicated attention throughout your cycling experience.
Small group sizes also help Butterfield be able to arrange unique accommodations. On a B&R trip, it's not unusual to find yourself in a renovated castle, chateau or other signature lodging.
They are known for cycling, however Butterfield also offers Walking Tours, Family Trips, Boat Trips & Cruises, Safaris, Food & Wine centric tours, and Corporate Holidays.
Why Choose a Tour With Butterfield & Robinson?
Even for avid hikers and cyclists who choose the more expert options, B&R sees to it that all you'll have to cope with is that next hill. You never have to carry your own luggage or purchases that you might make along the way -- the support van, which you're likely to encounter several times a day on your route -- takes care of that.
You also have plenty of flexibility in pacing your walk or ride; group members don't have to stay together -- you can stop at cafes or museums along the way as you see fit. You can even take the afternoon off if you wish.
In short, Butterfield is the pinnacle when it comes to well planned, fun, expertly guided, cycling tours with a luxury travel touch.
Visit Butterfield & Robinson site >
From Butterfield & Robinson
It's been almost 50 years since we made a conscious decision, on the back of a cocktail napkin, to encourage people to "slow down to see the world." Ever since, Butterfield & Robinson has been leading trips that amble where others stride, linger where others inhale, bike where others motor and sip where others quaff. In the words of Gypsy Rose Lee, a woman who, if nothing else, knew the value of doing things very, very slowly: "Anything worth doing well is worth doing slowly."
There's so much more to B&R than the high thread count of your sheets. Our kind of luxury takes you to a place you never knew existed. It's a feeling of freedom. A feeling of exuberance. A feeling like you don't need a watch or a wallet and you haven't a care in the world. Wherever we travel, we delve deep into the heart of the local culture, your meals are some of the best in your life, and your sleeps every bit as delicious. But this merely sets the stage for the magical, ineffable part of B&R—the moments of discovery—and self-discovery—that you'll never, ever forget.
The B&R difference is the best biking and walking routes in the world's most incredible places. It's the most capable and genuinely friendly guides you'll find anywhere. It's the most interesting hotels the region has to offer. It's amazing culinary experiences. It's state-of-the-art equipment, great wines at dinner, a water bottle that's always filled, route suggestions you won't find in any guidebook, et cetera! Are you starting to get the picture?
Our Expertise
Incomparable Service
From the first phone call to the final nostalgic photo swap, we pride ourselves on anticipating and answering each and every question you might have before, during and after your trip – plus a hundred more we thought you might like to know. That way, the only surprises on your trip are good ones.
50 Years of Experience
BB&R's been slowing down to see the world since 1966, and while a steady diet of good food, great wine and miles of biking and walking has kept us feeling sprightly, we can't deny the truth: we're about to turn 50. Fortunately, "mid-life crisis" isn't in our vocabulary—in fact, we're actually pretty excited about it.
Amazing Routes
We meticulously map out easy-to-follow route notes for our trips. By no means do you have to follow them, but if you do, we promise nothing short of spectacular (think quiet country lanes, glorious vistas and, often, being the only ones in sight). Our guides always have additional scenic routes up their sleeves, too. Up for more of a challenge? Ask and you shall receive.
Impeccable Guides
B&R guides are an exceptional group: consummate hosts, mind readers and raconteurs, among many other things. Think teachers, painters, travel writers, architects, botanists and biologists. The only documents thicker than their CVs are their passports. They've lived all over the world. They speak a gazillion languages. And they're ridiculously fun.
Expert Trip Designers
Our talented team of Trip Designers are the best in the world at what they do—and what they do is turn fantasies into reality. (We thought about changing their title to "Dream Weavers," but we didn't want to re-print all those business cards.)
Exceptional Hotels
Winning hotels are a hallmark of B&R; we go to great lengths to find properties that are unique expressions of the region. Often that means they've had a previous life as a monastery or a castle. Think of them as the charming and intimate garnish atop your trip. Best of all? We're friends with our hoteliers, which means preferential treatment for you.
Awards: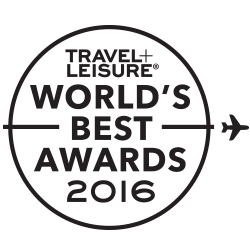 Trips & Specials
No Specials at this time. Please check back at later!