2

Island Windjammers Reviews & Ratings

50% Recommend

Excellent

1

Great

0

Average

0

Disappointing

0

Terrible

1

Value:

3.0

Guide:

5.0

Activities:

4.0

Lodging:

4.0

Transportation:

4.0

Meals:

4.0
The worst company I have been with
November 2018
Value

1.0

Guide

5.0

Activities

3.0

Lodging

3.0

Transportation

3.0

Meals

3.0
I booked two back to back cruises to different areas, it wasn't until I was on the second trip that I was told the itinerary had changed and we were going back to do the same itinerary in which I had just finished, no one from the company had warned me otherwise I would have chosen something different or cancelled one of them. When I contacted the head office they apologised and offered me a free 6 day cruise to which I asked for the cost equiverlent instead as I wasn't going to be in the Caribbean again plus the wasted 6 days repeating everything again.
They didn't want to do that and their response was a letter reminding me about their Small Print that says they have the right to substitute any scheduled sailings and itineraries without notice, a great cop out and an extremely bad way to treat customers.
After talking to some of the other guests about it I found out I wasn't the only one unhappy with their customer service treatment from head office and they wouldn't be travelling with them again.
I have travelled exstensively for many year to over 90 countries and work in tourism as a Guide and also spent 10 selling trips just like this and never had I had or heard of such bad service.
Air con didn't work for a while in some of the rooms so 2 of us had to sleep in the hallway.
average food , horrible coffee and undrinkable wine.
There are lots of other companies out there to choose from.
The ship staff were fantastic
Read more
The perfect relaxing vacation!
June 2015
Value

5.0

Guide

5.0

Activities

5.0

Lodging

5.0

Transportation

5.0

Meals

5.0
After taking an Island Windjammers cruise, it would be hard to return to big-ship cruising in the Caribbean. We were able to drop anchor off small, secluded coves on tiny islands in the French West Indies. There were no loudspeaker announcements, no cruise director trying to convince you to play silly games, no long lines to stand in, no need to dress up beyond shorts and T-shirts, no pressure of any kind. You do need to be able to entertain yourself, though, since there are no organized shows or performers (one passenger did play a few songs with his guitar). I would estimate that half the passengers on ship (just 24 in all) were in bed or their cabins by 9:30 p.m. while the other half partied until midnight or later – alcohol is included in the fare and there was plenty of imbibing, but it didn't get overly noisy or obnoxious at night. Everyone seemed to have a good time and I heard few if any complaints about the food or service the entire voyage. It was the perfect relaxing vacation.
Read more
Stride Review
Born in 2009 after the demise of Windjammer Barefoot Cruises, Island Windjammers was started by former Barefoot passengers who wanted to revive a similar type of casual, relaxed Caribbean cruising. Emphasis is on fun and spending your time onboard as you please.
WHO:
Island Windjammers cruises are best suited for relatively affluent adults in their 30s to 60s, who prefer small ship cruising and uncrowded ports to big ships that offer multiple activities, restaurants and entertainments. They're also for people who are most comfortable in T-shirts, shorts, and either sandals or bare feet onboard.
WHAT:
Beyond offering a few optional organized tours, Island Windjammers leaves your activities largely up to you. No one will look askance if you spend the entire day sunning or reading on the ship, stay up late or go to bed early, party hearty or find a quiet chair on deck to watch the world go by.
WHERE:
Island Windjammers cruises exclusively in the Caribbean, offering four possible itineraries: the Windward Islands, the Leeward Islands, the British Virgin Islands, and the French West Indies, which together cover much of the eastern and southern Caribbean. Home ports include Grenada, St. Lucia, Tortola and St. Maarten.
HOW:
Two motor sailing ships – the 12-passenger Diamant and the 24-passenger Sagitta – make up the current fleet. A third tall ship, the 30-passenger Vela, will be introduced in early 2016. Itineraries are relaxed, visiting islands for a day or two at a time, allowing plenty of time for touring, swimming, and snorkeling. Cabins are cozy but comfortable and most have their own bathrooms and portholes.
WHY:
Island Windjammers cruises are for those who want to relax and have a good time in the company of relatively few fellow passengers – who you will probably all get to know (the captain may well join you for lunch or dinner in his bare feet). Wine, beer, and rum punches are complimentary and the cuisine is excellent. If you're looking for a traditional big cruise ship experience, look elsewhere. Narrow stairs leading down to the cabins can cause problems for people with disabilities -- there are no elevators -- and choppy seas on occasion may cause problems if you're prone to seasickness.
Visit Island Windjammers site >
From Island Windjammers
Island Windjammers was founded by a group of diverse individuals who came together to reach a common goal: creating a new and unique barefoot cruise opportunity for those who are passionate about the tall ship sailing cruise experience.
Awards: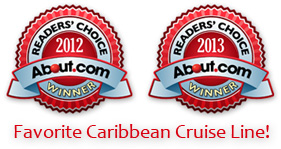 Trips & Specials
Celebrate the end of summer on any 6 night August or September sailing, and save $500.00 per person!

Sail two cruises back to back and save $100 per cruise